About whychristmas?com
whychristmas?com is one of the largest Christmas information sites on the web and answers your Christmas questions! It was launched in November 2000 and is published by me, James Cooper a Christmas loving web designer from the UK.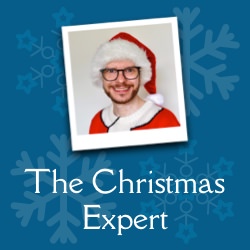 I'd always loved Christmas (yes, I'm a very big kid!) and had wondered about the 'whys' of Christmas; such as why do we have Santa/Father Christmas, why we have Christmas Trees and send Christmas Cards to each other?!
The site was originally created for some friends who were teachers in a local school. Knowing that I was a web designer, they came to me complaining that they couldn't find a site that was child friendly and "wasn't trying to sell the kids something"! So with the help of 'Bruce the Spruce' (the site's Christmas Tree logo) I made a little site for them to use with their classes.
The site has always had a 'no ads' policy - although I've had plenty of offers over the years! I run the site for the love of Christmas, not to make money from it.
As a Christian, the most important part of Christmas to me is the Christmas Story, when we remember and celebrate that Jesus was born in Bethlehem around 2000 years ago.
I'm also an all round 'Christmas Nut' listening to Christmas Carols and songs throughout the year. And to really get me into the Christmas spirit, I have to watch 'The Muppets Christmas Carol'! Through researching and creating the site, I've also become a Christmasologist (yes, that's really a thing).
If you really like the site, you can help to keep the site online.
---
Media Interviews
If you need a contributor about a Christmas item, I'm happy to help!
You can contact me on the contact form get me via twitter (@whychristmas) or find out more about me on The Christmas Expert.
I'm in the UK, so am on UK time!
---
Information Sources and Dates
The site was launched on 1st November 2000. It is continually updated as I find out new information. I do my utmost to make sure that any information on the site is correct.
The information on the site is all written by myself and comes from a variety of sources which I've used during the years I've run the site.
Some of the sources I've used include various books in my 'Christmas library', talking with other Christmas experts, my own research and from visitors to the site (that's mainly on Christmas around the world). Many of the books in my Christmas library are no longer in print and have been picked up in second hand bookshops, etc.
---
Some of my Favorite / Most Useful Christmas Books
Christmas Customs and Traditions by Clement A. Miles
ISBN: 0486233545
This was originally published in 1912 and is an amazing resource for all things Christmas and history! It has re-published over the past few years. Easily available.
Hark! The biography of Christmas by Paul Kerensa
ISBN: 9780745980171
This was first published in 2017 and is a really fun book full of Christmas info written like a timeline/biography of when things associated with Christmas happened. It also covers more 'recent' things like modern Christmas films and music. Easily available.
Christmas Antiques, Decorations and Traditions by Constance Eileen King
ISBN: 1851492976
This looks like a 'coffee table book' as there's lots of lovely photos of old decorations, cards and toys. But the books has some great information about the history of decorations and gifts. You can find it in/on some book stores.
At Christmas We Feast by Annie Gray
ISBN: 9781788168199
A comprehensive and very entertaining history of Christmas food in the UK. Easily available.
The Medieval Christmas by Sophie Jackson
ISBN: 0750941448
A great little book that does was the title says! You can find it in/on some book stores.
Christmas Customs And Traditions by Frank Muir
ISBN: 0722162626
A little paperback from 1975 full of Christmas info. Frank Muir was a British author and comedy writer, very famous in the 1970s! You can find it in/on some 2nd hand book stores.
Books that aren't all about Christmas but are still really good!
Jesus the Messiah by Alfred Edersheim
ISBN: 0802881319
There's a longer version called 'The Life and Times of Jesus the Messiah' which is still in print and easily available.
The Temple: Its Ministry and Services as they were at the time of Jesus Christ by Alfred Edersheim
ISBN: 1975878450
Pt's now quite easily available to get in re-prints. I've got an 1874 edition - there were no ISBN numbers back then!
The Life of Christ by Dean Farrar
I've got an 1898 edition - there were no ISBN numbers back then! You might be able to find a copy in a specialist book shops - mine came from my Grandfather.
The Oxford Guide to People & Places of the Bible
ISBN: 0195176103
Like a dictionary for lots of people and places in the Bible! Easily available.
The Feasts of the Lord by Kevin Howard
ISBN: 0785275185
A book all about the major feasts in the Jewish religion - but written from a Christmas/Messianic Jewish perspective. Easily available. (There's nothing about Christmas in it but lots of very good info about Hanukkah and is just a really excellent read.)
---
If you have any comments, questions or suggestions for the site, please contact me, I'd love to hear from you.