An Angel Visits Joseph
Having found out that his fiancé, Mary, was having a baby (and not with him) Joseph wonders what to do. But God has plans for them both.
The Story in the Bible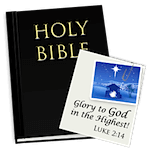 This is how the birth of Jesus Christ came about: His mother Mary was pledged to be married to Joseph, but before they came together, she was found to be with child through the Holy Spirit. Because Joseph her husband was a righteous man and did not want to expose her to public disgrace, he had in mind to divorce her quietly.
But after he had considered this, an angel of the Lord appeared to him in a dream and said, 'Joseph son of David, do not be afraid to take Mary home as your wife, because what is conceived in her is from the Holy Spirit. She will give birth to a son, and you are to give him the name Jesus, because he will save his people from their sins.'
All this took place to fulfil what the Lord had said through the prophet: 'The virgin will be with child and will give birth to a son, and they will call him Immanuel' - which means, 'God with us.'
When Joseph woke up, he did what the angel of the Lord had commanded him and took Mary home as his wife. But he had no union with her until she gave birth to a son. And he gave him the name Jesus.
Matthew 1:18-25
The History behind an Angel visiting Joseph in the Christmas Story
When Joseph found out about Mary's pregnancy, he must not have believed that she was pregnant by the Holy Spirit but that she had been unfaithful to him. Even though they were engaged and not married, to break the relationship, Joseph would have had to divorce Mary. In fact, adultery in engagement was even punishable by death in some cases! Joseph did not want to disgrace Mary, so he planned to divorce her in private. This only needed two witnesses rather than going through the Jewish courts and no formal grounds needed to be given for the divorce.
But in a dream, an angel appeared to Joseph and told him to trust Mary. The angel also told Joseph that the child should be called Jesus. Having a vision in a dream from God was a sign of God's approval, so this would have made Joseph pay attention and do what the angel had said!
We're not told who the angel was, but it could well have been Gabriel, who is God's chief messenger angel. If you'd like to know more about Gabriel, go to the section on whychristmas?com's sister site whyangels?com about Gabriel.