The History of Wassailing and Mumming
Wassailing
Wassailing is a very ancient custom that is rarely done today. The word 'wassail' comes from the Anglo-Saxon phrase 'waes hael', which means 'good health'. Originally, the wassail was a drink made of mulled ale, curdled cream, roasted apples, eggs, cloves, ginger, nutmeg and sugar. It was served from huge bowls, often made of silver or pewter. Jesus College, in Oxford University, has a Wassail bowl, that is covered with silver. It can hold 10 gallons of drink! Wassailing was traditionally done on New Year's Eve and Twelfth Night, but some rich people drank Wassail on all the 12 days of Christmas! The Wassail drink mixture was sometimes called 'Lamb's Wool', because of the pulp of the roasted apples looked all frothy and a bit like Lambs Wool! Here is a recipe for wassail.
One legend about how Wassailing was created, says that a beautiful Saxon maiden named Rowena presented Prince Vortigen with a bowl of wine while toasting him with the words 'waes hael'. Over the centuries, a great deal of ceremony developed around the custom of drinking wassail. The bowl was carried into a room with a great fanfare, a traditional carol about the drink was sung, and finally, the steaming hot beverage was served.
From this it developed into a another way of saying Merry Christmas to each other!
One of the most popular Wassailing Carols went like this: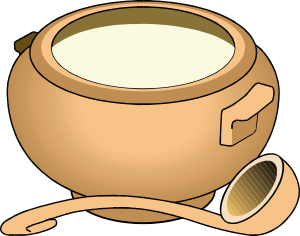 Here we come a-wassailing
Among the leaves so green,
Here we come a-wassailing,
So fair to be seen:
Love and joy come to you,
And to you your wassail too,
And God bless you and send you,
A happy New Year,
And God send you,
A happy new year.
In parts of England (such as Somerset and Sussex) where apples are grown, especially for cider, Wassailing still takes place on Twelfth Night (or sometimes New Year's Eve or even Christmas Eve). People go into apple orchards and then sing songs, make loud noises and dance around to scare off any evil spirits and also to 'wake up' the trees so they will give a good crop!
It's also common to place toast which has been soaked in beer or cider into the boughs of the trees to feed and thank the trees for giving apples. That's where the term to 'toast' someone with a drink comes from!
In parts of South Wales in the United Kingdom, there is the tradition of the 'Mari Lwyd' wassailing horse.
Mumming
Mumming is also an ancient pre-Christian/pagan custom that was an excuse for people to have a party at Christmas! It means 'making diversion in disguise'. The tradition was that men and women would swap clothes, put on masks and go visiting their neighbors, singing, dancing or putting on a play with a silly plot. The leader or narrator of the mummers was dressed as Father Christmas.
The custom of Mumming might go back to Roman times, when people used to dress up for parties at New Year. It is thought that, in the UK, it was first done on St. Thomas's day or the shortest day of the year.
Different types of entertainments were done in different parts of the UK, particularly in England. In parts of Durham, Yorkshire and Devon a special sword dance was performed. There were also different names for mumming around the UK too. In Scotland it was known as 'Gusards' or 'Guising'; in Somerset, 'Mumping'; in Warwickshire or 'Thomasing'; and 'Corning' in Kent.
In Medieval times, it had turned into an excuse for people to go begging round the houses and committing crimes. It became so bad that Henry VIII, made a law saying that anyone that caught mumming wearing a mask would be put in prison for three months!
One poem that people said when mumming was:
Christmas is coming, the beef is getting fat,
Please drop a penny in the old man's hat.
Over the years, this was changed into a very similar poem that is said by some carol singers today:
Christmas is coming, the goose is getting fat,
Please put a penny in the old man's hat.
The early settlers from the UK took the custom of Mumming to Canada. It is known as Murmuring in Canada, but is banned in most places because people used it as an excuse for begging.
There's also a famous Mummer's Day parade New Year's Day in Philadelphia, in the USA, which lasts over six hours!